Biography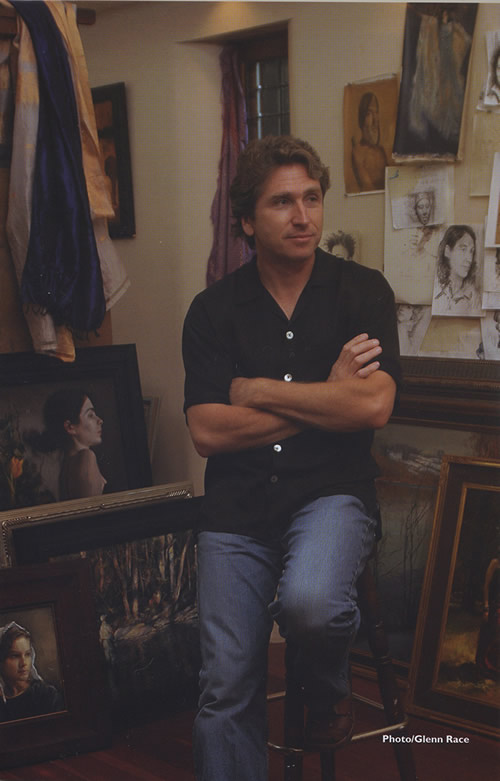 The paintings of Glenn Harrington are recognized and collected internationally and have been featured in such publications as American Arts Quarterly, American Art Collector, International Artists Magazine, the covers of American Artist & US Art, New Art International, The New York Times, GQ Japan, and The Philadelphia Inquirer. He has had numerous solo exhibitions in New York, Japan, London, South Carolina and Pennsylvania, and has exhibited at the Norman Rockwell Museum, The Museum of American Illustration, the USGA Museum, The Gibbs Museum, and the Raushenberg Gallery at Edison College, FL.
Glenn's paintings have been published on over 600 book covers including such classics as Room with a View, Pride and Prejudice, Wuthering Heights, Man and Superman, Women in Love, Dangerous Liaisons, The Golden Bowl and Mansfield Park. Two books containing 40 oils, commissioned by Sterling Publishing, were printed on the plays and poetry of William Shakespeare and W.B. Yeats. Glenn created 50 original oils for Disney's children's book "Tarzan"in 2000. Penguin Books has recently republished Carl Sandburg's Pulitzer Prize winning book, "Abe Lincoln Grows Up" with its cover painting by Harrington.
His portrait work is highly regarded, having received the Portrait Society of America's Draper Grand Prize in 2007, Honor Award in 2008 and 2005 and Certificate Awards in 2009 and 2004 during its international juried exhibitions. Harrington's portrait of Maria Callas was used to promote the Tony Award winning play "Master Class." Glenn has been a finalist in the Art Renewal Center's annual juried show for the last 3 years and in 2007 received its Honorable Mention. He has received awards consistently over the last 3 years from the Oil Painters of America national and regional juried exhibitions.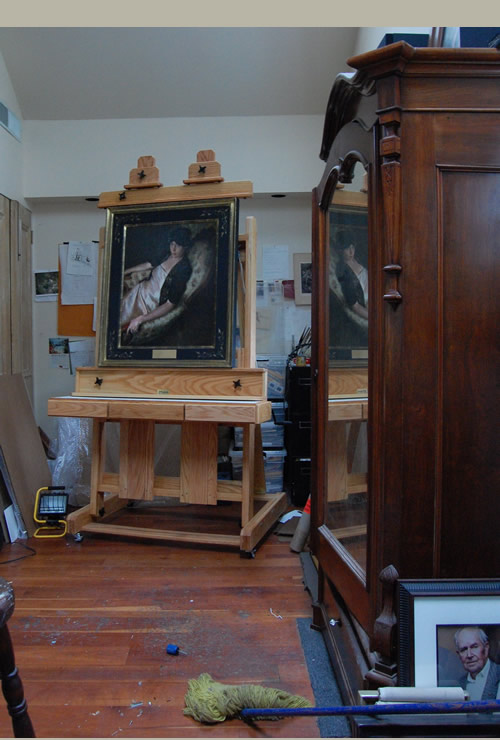 Portraits of Payne Stuart, Nancy Lopez, Ben Hogan, and 20 other inductees from the Memorial Tournament hang at the Murfield Village Golf Club in Dublin, OH and thirty inductee portraits hang in the permanent collection of the World Golf Hall of Fame in St. Augustine FL. this years painted inductees include President G.W. Bush and Ernie Els. Thirty oils printed in Golf Magazine highlighting the career of Jack Nicklaus were purchased by the Jack Nicklaus museum in Columbus OH and are on permanent display there.
Harrington's recent commissions include a portrait of Wilbur Ross and three murals highlighting golfers Greg Norman and Padraig Harrington installed at Doonbeg Golf Club, County Clare, Ireland in 2006. 2009 commissions include: a Star Wars interpretive painting commissioned by George Lucas published by Harry Abrams Publishing; a Portrait of Bucks County artist Ranulph Bye, commissioned by his wife Glenna, a Bucks County landscape commissioned by US ambassador to Ireland and Pittsburgh Steelers owner Dan Rooney and a portrait of Dwight D. Eisenhower for the World Golf Hall of Fame.